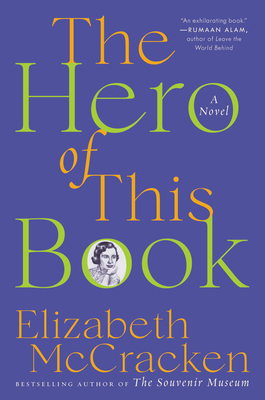 The Hero of This Book: A Novel
Publication Date:
October 3rd, 2023
Usually Ships in 1 to 5 Days
Is this a memoir or a novel? Does it matter? A very well-written story about memoir writing, following a writer who, in the wake of her mother's death, travels to London. A great examination of the grieving process and what it does to art.
October 2022 Indie Next List
Description
Named a Top Ten Best Book of the Year by Time and People
Named a Best Book of the Year by: Washington Post * Kirkus Reviews * New Yorker * Chicago Public Library * NPR * Oprah Daily * Philadelphia Enquirer
A taut, groundbreaking, and highly acclaimed novel from bestselling and award-winning author Elizabeth McCracken, about a writer's relationship with her larger-than-life mother—and about the very nature of writing, memory, and art
Ten months after her mother's death, the narrator of The Hero of This Book takes a trip to London. The city was a favorite of her mother's, and as the narrator wanders the streets, she finds herself reflecting on her mother's life and their relationship. Thoughts of the past meld with questions of the future: Back in New England, the family home is now up for sale, its considerable contents already winnowed.
The narrator, a writer, recalls all that made her complicated mother extraordinary—her brilliant wit, her generosity, her unbelievable obstinacy, her sheer will in seizing life despite physical difficulties—and finds herself wondering how her mother had endured. Even though she wants to respect her mother's nearly pathological sense of privacy, the woman must come to terms with whether making a chronicle of this remarkable life constitutes an act of love or betrayal.
The Hero of This Book  is a searing examination of grief and renewal, and of a deeply felt relationship between a child and her parents. What begins as a question of filial devotion ultimately becomes a lesson in what it means to write. At once comic and heartbreaking, with prose that delights at every turn, this is a novel of such piercing love and tenderness that we are reminded that art is what remains when all else falls away.
Praise for The Hero of This Book: A Novel
"The Hero of This Book defies description. Just read it. . . Page by page, it's the quiet story of an adult child mourning a parent. As a whole, it's a map of how to love someone… With admirable candor, pragmatism and humor, McCracken gives us a confessional gift as she walks through the experience of processing loss." — The Washington Post
"[H]er words create an exquisite alchemy that makes a reader ready to follow her anywhere, believe every word she writes down. Is this book a novel or is it a memoir? It matters not at all. With every vital, potent sentence, McCracken conveys the electric and primal nature of that first fundamental love." — Janice Y.K. Lee, New York Times Book Review ("Editors' Choice")
"McCracken delivers a searing meditation on loss and the impossibility of depicting, in art, the entirety of a person." — New Yorker
"The fictional (auto)biography packs a punch the deeper it goes, and by the end contains so much life, all but spilling from its pocket-sized pages." — David Canfield, VanityFair.com
"[The Hero of This Book] sharply capture[s] a remarkable person, a big-hearted, teensy woman who walked with crutches all her life, adored the theater, and lived in squalor because she couldn't bear to throw anything away. . . . It's a pointillist portrait, made up of closely-observed detail. . . . And at every turn, McCracken puckishly undercuts our expectations about the way a book like this should work." — Dan Kois, Slate
"The Hero of This Book is simple and lovely. McCracken's easy prose is a joy to read, right off the bat… remarkable." — Associated Press
"It's a joyful, wistful, funny tribute to a woman who may or may not (but probably was) inspired by the author's own parent, written with such loving detail that it is as if the reader is right there, part of the pair's tight family circle." — Oprah Daily 
"Leave it to Elizabeth McCracken to refresh the genre of the parental tribute…This layered book is packed with consequence, with love, with funny observations, with reflections on writing and the risks of hurting yourself and others….Mission accomplished. Natalie Jacobson McCracken, 1935-2018, comes alive as a wonderful hero of this book — and so does her daughter for writing it." — Heller McAlpin, NPR.ORG
"A crushing portrait of a woman grappling with grief, love, and the power of words." — Time (A Must Read Book of 2022)
"[A] beguiling meditation on family, grief, and caretaking that also addresses the burdens of storytelling: how much freedom you have — or don't — to write about family members after they're gone. With infinite freedom to invent, McCracken sparkles." — Boston Globe
"This compact, wise, heartfelt book is another sign that McCracken continues to do it right." — Minneapolis Star Tribune
"How reassuring it is to have writers like Elizabeth McCracken among us. She has no interest in gaining a few yards on the field. Frontiers do not interest her. Her fiction does not offer us a map. She trusts that her real readers are not interested in being delivered to the destination. Her specialty is the interior, and the interior is vast. We must bring our own compasses, emotional and aesthetic." — Yiyun Li, Harper's Magazine
"[A] beautiful, timeless book about the heroes we lose and what still remains." — BookReporter.com
"[Elizabeth McCracken] is one of my favorite contemporary novelists. . . [The Hero of This Book] is funny, it's sharp, the sentences are beautiful." — Emma Straub on the Today Show
"Readers who enjoy tales of quiet, internal reflection will find themselves right at home in this thoughtful exploration of the lived expe­rience of grief." — BookPage
"I have long been a fan of McCracken's fiction: her imagination! Her endlessly stellar and impressive sentences. But "The Hero of This Book" is a world all its own. McCracken hews closely to her own life, tracking the loss of her beloved mother and allowing the reader access to an extraordinary mind grappling in real time with what both a story and real lasting love might be. It's funny as hell, brilliantly built, deeply felt, and the sentences remain incredible throughout." — Los Angeles Times
"Anyone who picks up this beautifully written account will recall someone they loved within the pages." — Women About Town
"Readers who delight in forthright and fearless stories of complicated women, told through the eyes of other complicated women, are sure to find joy in McCracken's new book. Those who have walked with the memory of a loved one will find solace in the narrator's final revelation—that the hero of the book and the storyteller remain forever connected, as neither will let the other go." — Ploughshares
"Transcending categories, McCracken's novel-as-eulogy and meditation on writing and truth is mischievous, funny, canny, and deeply affecting." — Booklist (starred review)
"Braided into McCracken's gorgeously spiraling narrative is an expansive meditation on the act of writing and, intriguingly, the art of writing memoir….the novel assumes a hybrid quality that could be called autofiction but really is an homage to the art of great storytelling. Novel? Memoir? Who cares. It's a great story, beautifully told." — Kirkus Reviews (starred)
"An accounting of the self that refuses autobiography, a travelogue about being lost, a novel that is really a theory of fiction, an elegy that sidesteps solemnity: The Hero of This Book brilliantly disarms our usual modes of thinking. Elizabeth McCracken is one of America's finest writers, fascinating, inventive, and profound." — Garth Greenwell, author of Cleanness and What Belongs to You
"The question of what this work is—a novel or a memoir, a fiction or a fact—can't be answered. Doesn't matter. The Hero of This Book is tender, funny, heartbreaking, philosophical. Elizabeth McCracken is a writer who always delights, and this is an exhilarating book." — Rumaan Alam, author of Leave the World Behind
"McCracken delivers a searing meditation on loss and the impossibility of depicting, in art, the entirety of a person." — The New Yorker
"Through McCracken's intense analysis of both grief and rejuvenation, the tenderness of the child-parent bond is revealed and we're reminded that the beauty in art and writing is continuous." — Westport Magazine