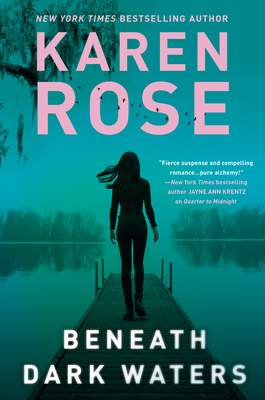 Beneath Dark Waters (A New Orleans Novel #2)
Publication Date:
August 15th, 2023
Usually Ships in 1 to 5 Days
Staff Reviews
Fierce suspense and compelling romance.
— Five Books Reviewed in Five Words
Description
Deadly secrets lie beneath the murky waters of the Louisiana bayou in this pulse-pounding new romantic suspense novel from New York Times and USA Today bestselling author Karen Rose.

There's no safe place for a child to hide when danger comes from every direction.

Public prosecutor J.P. "Kaj" Cardozo has only lived in New Orleans for six months, and he's already working on a high-profile celebrity sexual assault case that's made headlines all over the country. But when his son becomes the target of a kidnapping attempt as a threat to Kaj, he is desperate to keep him safe and turns to a private investigative firm famous for their protection services.
A veteran Marine, Val Sorensen is glad to have found a new career with Broussard Investigations. Her latest assignment as the bodyguard to ten-year-old Elijah Cardozo reminds her why—Val is a kick ass guardian with a tender heart.  Through her duties, Val grows fond of the boy—and his handsome father.
But when the high-stakes investigation reveals an explosive network of crime through a revived drug gang, lingering deep-seated corruption in the NOPD, and a group of murderers-for-hire targeting Kaj, Elijah, and his star client, they're all left scrambling for safety…
Praise for Beneath Dark Waters (A New Orleans Novel #2)
Praise for Beneath Dark Waters
"Suspense, danger, action, intense moments, and romance are combined to provide readers with a fabulous read in Beneath Dark Waters by Karen Rose...This riveting crime thriller, police procedural, and romantic suspense novel keeps you on the edge of your seat from start to finish."—Mystery & Suspense

Praise for the novels of Karen Rose
"From the first rousing chapter to the last, Scream for Me is intense, complex, and unforgettable."—New York Times bestselling author James Patterson
"Riveting. Emotional. Karen Rose at her best."—New York Times bestselling author Christine Feehan
"High-wire suspense that keeps you riveted."—New York Times bestselling author Lisa Gardner
"A high-octane thrill ride that kept me on the edge of my seat and up far too late at night!"—New York Times bestselling author Lisa Jackson 
"Fierce suspense and compelling romance...pure alchemy."—New York Times bestselling author Jayne Ann Krentz
"Takes off like a house afire. There's action and chills galore in this non-stop thriller."—New York Times bestselling author Tess Gerritsen 
"A fast-paced, high-intensity story that'll carry you along on an amazing journey."—New York Times bestselling author Lori Foster
"Blistering, high-octane suspense that never lets up."—New York Times bestselling author Karen Robards
"Suspenseful and engrossing."—New York Times bestselling author Lora Leigh
"Karen Rose has written another top-notch thriller! Grab this book. You won't be able to put it down."—New York Times bestselling author, Brenda Novak
 
"An up-all-night, unforgettable tale of secrets, lies, and taut suspense. Readers will want to grab this one!"—New York Times bestselling author Carla Neggers 
"Another page-turner! Karen Rose masterfully combines an intricate mystery and a heartfelt love story. Say No More keeps you riveted until the very end."—New York Times bestselling author Laura Griffin
"Cold-Blooded Liar had me in its grip from the first chapter. I couldn't turn the pages fast enough. Keep the coffee brewing—you'll be up all night."—New York Times bestselling author Julie Garwood