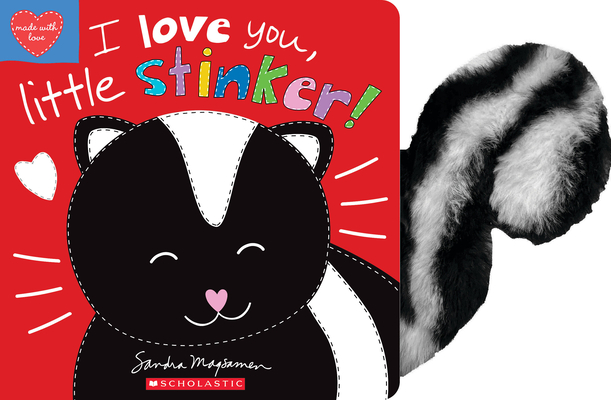 I Love You, Little Stinker!
Publication Date:
September 5th, 2023
Publisher:
Cartwheel Books
Usually Ships in 1 to 5 Days
Staff Reviews
Cozy, sweet message of love.
— Five Books Reviewed in Five Words
Description
Share the love with your little stinker in this adorable board book featuring a soft, plush skunk tail!
You're a little stinker, it's true! And we can't help but adore and love you!
This novelty board book is perfect for the little stinker in your life! Babies and toddlers will love holding, touching, and reading this playful board book featuring a soft, cozy skunk tail. With Sandra Magsamen's signature message of love, this book shows every little stinker how special and adored they are!
About the Author
Sandra Magsamen is the author and illustrator of many books for young children, including the picture book When I Grow Up I Want to Be Me, as well as a number of bestselling novelty titles, including Everybody Goes Nighty-Night, named a Best Board Book of 2018 by The Children's Book Review; Baby Love; I Love You, Little Pumpkin; and Peek-a-Boo, I Love You. As an artist, an art therapist, and a mom, she uses her creativity to remind people to express themselves and connect with others. Her lifestyle brands, products, and books are sold worldwide. Visit her at sandramagsamen.com.