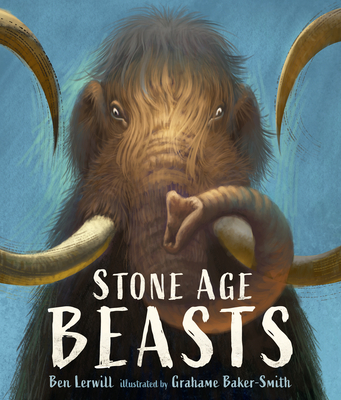 Stone Age Beasts
Publication Date:
November 7th, 2023
Usually Ships in 1 to 5 Days
Staff Reviews
Leap, slither, swoop to life!
— Five Books Reviewed in Five Words
Description
The spectacle of Stone Age life stampedes off the page in an engaging, eye-popping gift book illustrated by a Kate Greenaway Medal winner.
Are you brave enough to come face-to-face with the biggest and most awe-inspiring prehistoric beasts? In this dramatic introduction to the Stone Age world, the stupendous giants that shared the earth with our human ancestors—from the woolly mammoth and the fearsome saber-toothed cat to the elephant bird and the giant wombat—leap, slither, and swoop to life on eighteen atmospheric and densely packed double-page spreads spotlighting animals from around the globe. Each lively profile is anchored to a stunning illustration by Kate Greenaway Medal winner Grahame Baker-Smith and features jaw-dropping facts about the animal's anatomy and behavior, with an emphasis on how it interacted with early humans. Sidebars highlight scientific name, weight, territorial range, and extinction dates, while a glossary and end notes offer additional color and context to round out a boldly packaged and richly absorbing journey of discovery.
Praise for Stone Age Beasts
After introducing the Stone Age, this big, colorful volume presents some of the now-extinct animals that roamed the world back then. . . . The mixed-media illustrations make good use of lighting effects and dramatic posing of the beasts. A riveting animal book for armchair time travelers.
—Booklist (starred review)
Baker-Smith goes for the gusto with spread-filling portraits of glowering creatures looming majestically. . . Make way for some memorable megafauna.
—Kirkus Reviews
'It's almost three million years ago,' writes Lerwill (Let's Play Soccer!) in an opening worthy of a nature documentary. . . . Infotainment-leaning visualizations ('Imagine a cuddly toy as big as your bedroom,' Lerwill writes of the giant wombat) will only help readers to savor the thrill- and chill-inducing facts on offer.
—Publishers Weekly
For intrepid young readers who like their ancient creatures hairier and scarier, Ben Lerwill's fact-packed book about Stone Age animals offers a stunning collection of thrillers. Grahame Baker-Smith's hyper-detailed illustrations are glistening with ropy saliva, sharp teeth, and razor-sharp talons — and even the more approachable creatures on display (the giant ground sloth, giant lemur and tank-like glyptodon) look a bit surly and standoffish.
—The Virginian Pilot
What child isn't intrigued by the idea of woolly mammoths and saber-toothed cats? Those prehistoric creatures are just the start in this encyclopedia of fantastic beasts like elephant birds and giant wombats. It's a short book overall, but it's packed with fascinating facts and gorgeous illustrations.
—We Are Teachers