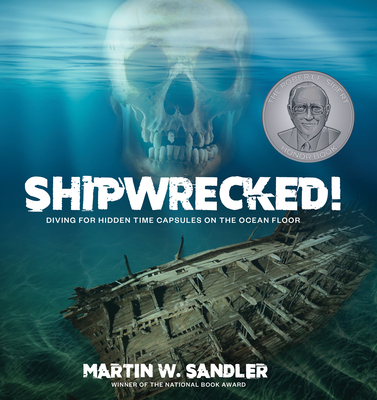 Shipwrecked!: Diving for Hidden Time Capsules on the Ocean Floor
Publication Date:
October 31st, 2023
Publisher:
Astra Young Readers
Usually Ships in 1 to 5 Days
Staff Reviews
Ocean Floor - world's greatest museum.
— Five Books Reviewed in Five Words
Description
"(A) deeper dive into marine archaeology...enlivened by photographs, diagrams and archival images, describes sunken vessels as 'time capsules' and the ocean floor itself as 'the world's greatest museum.' But what extraordinary things have been found, despite the depth and waves!"—The Wall Street Journal
From National Book Award–winning author Martin W. Sandler, here is a fascinating look at what shipwrecks reveal about our world's past—and how exploring them led to the development of a whole new field of science: marine archaeology.
Most of the world's ocean floor remains to be discovered. In fact, it's estimated to be home to over 3 million sunken vessels and countless treasures of the past. This enthralling and adventure-filled nonfiction book for young readers recounts some of the most captivating shipwrecks from history, ranging from the Shinan, a Chinese merchant ship laden with riches from the 14th century, to the HMS Erebus and Terror, two polar exploration ships that mysteriously disappeared in the early 1800s. Combining new research, stunning archival material, and vivid storytelling, Shipwrecked! dives deep into the world of marine archaeology and shows young readers what each discovery reveals about the world before our time.
Praise for Shipwrecked!: Diving for Hidden Time Capsules on the Ocean Floor
A 2023 School Library Journal Best Book
A 2023 New York Public Library Best Book
★ "Full of adventure and numerous explorations of the value of perseverance, this title will capture the attention of readers through a wealth of scientific and historical details." —School Library Journal, starred review

★ "Sandler turns his attention to shipwrecks and marine archaeology, selecting seven shipwrecks that collectively present the excitement of solving the mysteries of where each one lies, the latest excavation technologies, and the wealth of historical understanding each wreck yields up...Sandler finds the hook in the story surrounding each wreck, and the stories build upon one another to create a more complete understanding of the field. A final chapter teases nine additional shipwreck stories in brief vignettes. The handsome book design features full-color photographs of recovered artifacts; scientists working to restore ships; sidebars with additional information; and historical paintings, photographs, and maps." —The Horn Book, starred review
"In individual chapters, the National Book Award–winning author focuses on seven shipwrecks with perhaps lesser-known recognition but notable historical significance...Most important, however, are the connections made to humans' impact on history, from trade routes to technological advances to the horrors of slavery. Photos from the expedition scenes and lengthy sidebars on such topics as the role of women sponge divers on shipwreck discoveries add more insight to this thought-provoking STEM offering." —Booklist
"A survey of the tools, techniques, and select triumphs of underwater archeology...Historical images of ships at sea join photos of artifacts in place or in various stages of preservation to add both drama and visual detail, and along with quick, tantalizing looks at several other significant wrecks, young explorers will find helpful notes and references at the end. Immersive reading." —Kirkus Reviews
"Filled with photos of artifacts, the excavation process, and vessels recovered, [Shipwrecked!] a fascinating read that paints each shipwreck as 'a pristine historic time capsule' and marine archaeology as 'one of the newest, most dynamic, and most rewarding of all the sciences.'"—Publishers Weekly