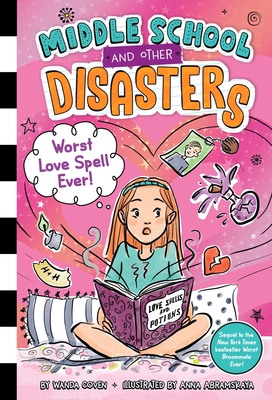 Worst Love Spell Ever! (Middle School and Other Disasters #2)
Publication Date:
August 29th, 2023
Publisher:
Simon Spotlight
Usually Ships in 1 to 5 Days
Staff Reviews
What can possibly go wrong?
— Five Books Reviewed in Five Words
Description
In this hilarious sequel to the New York Times bestseller Worst Broommate Ever, witch-in-training Heidi Heckelbeck wants her crush to notice her. Featuring black-and-white illustrations and doodles throughout and sparkly foil on the cover!
Heidi is settling in at Broomsfield Academy. She and Melanie are trying to get along and Heidi is getting used to her classes, all her new friends, and her very first crush, Hunter! The problem is: Hunter is really popular. How will Heidi get him to notice her? Her friends tell her to just be herself, but that sounds so boring! After all, Heidi is a witch-in-training. What good is having magic if you can't use it? She knows she can find the perfect love spell to make Hunter fall in love with her. What could possibly go wrong?
About the Author
Wanda Coven has always loved magic. When she was little, she used to make secret potions from smooshed shells and acorns. Then she would pretend to transport herself and her friends to enchanted places. Now she visits other worlds through writing. Wanda lives with her husband and son in Colorado Springs, Colorado. They have three cats: Hilda, Agnes, and Claw-dia.
Anna Abramskaya was born in Sevastopol, Ukraine. She graduated from Kharkiv State Academy of Design and Arts in 2006. Then she moved to US where she's currently living in the beautiful city of Jacksonville, Florida. Anna has loved art since she was little and has tried different materials and techniques. The process of creation and seeing beauty in the simple things around her always brings her joy and the wish to share that feeling with everyone. Anna wants to believe that art can help bring more love into people's hearts. Find out more at AnnaAbramskaya.com.
Praise for Worst Love Spell Ever! (Middle School and Other Disasters #2)
An entertaining and funny take on middle school drama with a light magical touch. (Fiction. 9-12)
— Kirkus Reviews