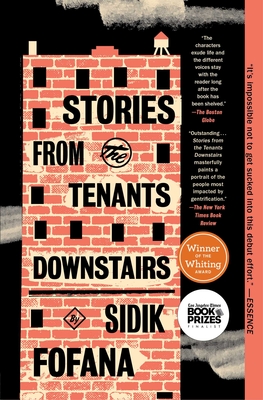 Stories from the Tenants Downstairs
Publication Date:
August 1st, 2023
Usually Ships in 1 to 5 Days
From the first sentence, we are immersed in the cadence of Harlem. We are one of the tenants struggling with autonomy and groping for success. These engaging stories offer insight into the lives and aspirations of inner-city people.
August 2022 Indie Next List
Description
Finalist for the Gotham Book Prize, the Los Angeles Times Art Seidenbaum Award, and the Ernest J. Gaines Award for Literary Excellence * Longlisted for the Story Prize
Named a BEST BOOK OF THE YEAR by NPR, Kirkus Reviews, Library Journal, Chicago Review of Books, LitHub, and Electric Lit
"A standout achievement…American speech is an underused commodity in contemporary fiction and it's a joy to find such a vital example of it here." —The Wall Street Journal
From a superb new literary talent, a rich, lyrical collection of stories about a tight-knit cast of characters grappling with their own personal challenges while the forces of gentrification threaten to upend life as they know it.
At Banneker Terrace, everybody knows everybody, or at least knows of them. Longtime tenants' lives are entangled together in the ups and downs of the day-to-day, for better or for worse. The neighbors in the unit next door are friends or family, childhood rivals or enterprising business partners. In other words, Harlem is home. But the rent is due, and the clock of gentrification—never far from anyone's mind—is ticking louder now than ever.
In eight interconnected stories, Sidik Fofana conjures a residential community under pressure. There is Swan, in apartment 6B, whose excitement about his friend's release from prison jeopardizes the life he's been trying to lead. Mimi, in apartment 14D, hustles to raise the child she had with Swan, waitressing at Roscoe's and doing hair on the side. And Quanneisha B. Miles, in apartment 21J, is a former gymnast with a good education who wishes she could leave Banneker for good, but can't seem to escape the building's gravitational pull. We root for the tight-knit cast of characters as they weave in and out of one another's narratives, working to escape their pasts and blaze new paths forward for themselves and the people they love. All the while we brace, as they do, for the challenges of a rapidly shifting future.
Stories from the Tenants Downstairs brilliantly captures the joy and pain of the human experience in this "singular accomplishment from a writer to watch" (Library Journal, starred review).
Praise for Stories from the Tenants Downstairs
The residents of a low-income high-rise apartment building in Harlem form the beating heart of Fofana's dynamic debut collection. The hardscrabble tenants of Banneker Terrace tread water while their greedy landlord imposes evictions... Fofana delivers the hardy, profane, violent, and passionate narration in Black English Vernacular, and finds the humanity in all her characters as they struggle to get by. These engrossing and gritty stories of tenuous living in a gentrifying America enchant."
–Publisher's Weekly (Starred Review)
"Eight interconnected stories set in a low-income Harlem high rise give faces, voices, and meaning to lives otherwise neglected or marginalized. The stories assembled in this captivating debut collection feel vividly and desperately authentic. 'Ms. Dallas' may well be the collection's most caustically observant and poignantly tender story. Those willing to use their ears more than their eyes to read along will find a rich, ribald, and engagingly funny vein of verbal music, as up-to-the-minute as hip-hop, but as rooted in human verities as Elizabethan dialogue. The publisher compares this book to Gloria Naylor's The Women of Brewster Place and Lin-Manuel Miranda's In the Heights. One could also invoke James Joyce's Dubliners in the stories' collective and multilayered evocation of place, time, and people. A potentially significant voice in African American fiction asserts itself with wit and compassion."
–Kirkus Reviews (Starred Review)
"In the same way that Gordon Parks captured the brilliance of ordinary Americans, Sidik Fofana elevates the every day through his vivid depictions of Banneker Terrace's captivating residents. Yes, Stories from the Tenants Downstairs is funny, and yes, it is a collection that will make your jaw drop several times, but its true power lies in what it has to say about community, and how this road called life is more bearable when we walk it together. What a gift Fofana's writing is, especially now."
–Mateo Askaripour, author of Black Buck
"Stories from The Tenants Downstairs heralds an indelible, inimitable new literary voice. Sidik's stories are full of humanity and humor and hope, full of insight into the plight of people too often pushed to the margins of America-the-dream. By the end of this collection, the tenants of Banneker Terrace felt as intimate as my own neighbors, friends, family—a testament to the immense fullness with which Sidik portrayed their lives. This magnificent collection is not only a great joy to read, it's evocative, essential art."
–Mitchell S. Jackson, author of Survival Math and The Residue Years
"Sidik Fofana's timely collection is full of tenderness and truth. With it, he has given us a beautiful blueprint for the gentrification story: let it be bold, let it honor the complexities of those who are struggling to hold on. These stories are at once intimate and familiar, and utterly original. I braced myself, I laughed, and I shuddered. The voices of the residents of Banneker Terrace linger and echo long after the last page. A tremendous debut!"
–Deesha Philyaw, author of The Secret Lives of Church Ladies
"Every once in a while a new writer comes along and refreshes our notions of what fiction can do.  Sidik Fofana is one of those rare and wonderful writers, and what he does with these stories, and with our beautiful, bottomless American language, is nothing short of revelatory.  Buy this book, and prepare to be blasted by the brilliance inside."
–Ben Fountain, author of Beautiful Country Burn Again
"Sidik Fofana's Stories from the Tenants Downstairs is the book I've been waiting for ever since reading the first few of Mr. Fofana's stories eight years ago. I had never read anything quite like them. They have brilliant architecture that can go unnoticed beneath the carefully textured voices. The author knows this community and its predicaments and has assembled a cast that will break your heart but also at times put your heart back together again. Mr. Fofana has an acute ear and a perfect eye, and he doesn't rush. This is important American art."
–Lorrie Moore, author of Bark